Gorilla Safaris with Africa Tours Adventure
Are you looking for a gorilla safari in Uganda, Rwanda and Congo, Africa Tours Adventures is a specialist and trusted travel agent based in Uganda with over 5 years hands on safari experience. We are devoted to providing excellent service and customer satisfaction. Our team of excellent tour consultants is always willing to help answer all your safari questions. We guarantee you a great gorilla tour with us.
Uganda is a virgin safari destination, located in East Africa with diverse landscape, which comprises of Mountains, Lakes, Rivers, Savanna plain lands. Winston Churchill was spot on confirming and popularizing Uganda as a Pearl of Africa after he visited the country in 1907 due to her natural beauty characterized by snow capped mountain, flesh water bodies, rolling hills, Rivers, variety of animals and birds well protected in various National parks, different cultural Setups.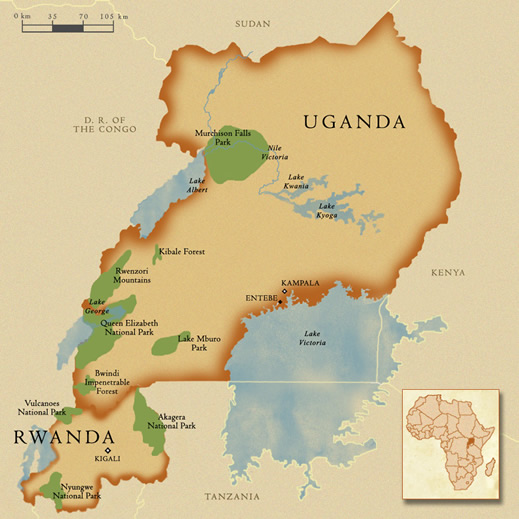 Why we are the Best?
We specialize in organizing tailor made private and group safari tours in Rwanda and Uganda, working closely around our client's needs, budget and time frame to achieve an authentic tour package to cover gorilla safaris, wildlife tours, Chimpanzee tracking, Golden monkey treks, birding trips, cultural visits, hiking and white water rafting among others to create a more rewarding African safari holiday.
A safari package with us is carefully planned into well crafted itineraries explaining day by day programs and activities including accommodations in both safari lodges and camps giving you a real feeling of a safari holiday in Rwanda or Uganda.
Contact us for ideas on the best tour option. We also welcome tour operators looking for partners or ground handlers in East Africa especially Uganda and Rwanda safari tours.