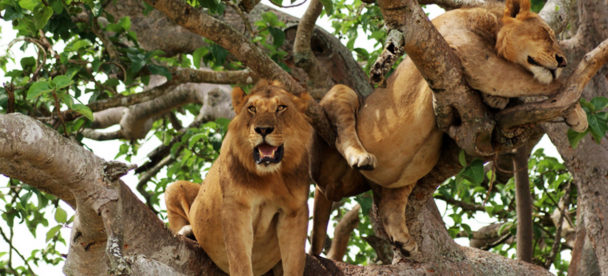 For many first-timers to Uganda's most popular Queen Elizabeth National park visitors, the chance to see a pride of wild Tree climbing lions for the game drives is at the top of the wish list. But information on opportunities to view the large predators like leopards, lions, hyenas and other wildlife such as giraffe, antelopes seem to be contradictory out there. We have heard rumors on everything from those wildlife sightings have reduced in some areas of the park which is not true of the visitor experience.
Some Uganda safari websites lead visitors to believe that animals have reduced in numbers when even poaching is no longer the main threat for the last 30 years to wildlife particularly in Queen Elizabeth National Park and Uganda safari parks in general. And another ridiculous thing is that you may not see the nocturnal leopards unless you do several game drives or even spend several weeks in the park. Then when new visitors arrives in the park and miss such rare sightings of animals and feel overwhelmed.
The truth is that animal numbers have not reduced in the park. When you let your uganda wildlife authority guide and ranger know about your dream to see leopard, they will ensure the game drives are conducted in the right areas suc as leopard loop track, Ishasha area south of the park and kasenyi game tracks where chances are 95% higher.
Africa Tours Adventure encourages visitors to gain a thorough understanding of the wildlife viewing safari in queen Elizabeth national park. Uganda wildlife authority reported to have discovered invasive species back in 2011 and beleived to be caused by the neative effects of global climate change. Weeds like spear grass, lantana camara, parthenium hysteophorus were indentified and covers an area nearly 25 sq km out of the total area of 1,978 km in the central part and along northern kasenyi game plains threatening wildlife.
The authority says the invasive weeds which grow faster to make other ecosystem disappear are poisonous and causes animals to cough or sneeze as well as lead to abortions when females chew them accidentally. As result animals especially antelopes, giraffes tend to relocate avoiding taller woodland bushes where predators ambush them. And can we be sure somebody is not complaining of missing very rare sightings after a relatively long game drive.
Some of the Uganda tour operators asked questions that have left us speechless concerning balloon safaris to be flying at lower elevation which scares animals to disappear in the bushes and why experiential activities drive off the trails and this often sometimes disrupts other visitor's wildlife sightings. Speculation or even worde rumor has gone through the roof. There's nothing like giving special pass to some groups of vistors and unfortenately limiting others of the opportunity.
When you arrive at Mweya peninsular the main Uganda wildlife authority visitor center offering camping, luxury budget and bed and breakfast accommodation, Uganda wildlife rangers are experienced to give you tips and great wildlife experience and will respond to tourist questions. Guides present real wildlife information that you can depend on to separate truth of viewing on a safari in the park from rumors. In the face of visitors and operators who have experienced a little bit of disappointments, it is the strength of wildlife rangers that make successful and rewarding game drives and not what you read or hear. Before you start planning a safari to Uganda, ask yourself this question. How you will really know about issues happening on ground unless you're connected to a registered tour operator that looks after your safari interests. The answer is simple you will be left to read internet blogs that never seems to bring facts about game drives in Queen elizabeth national park . Then why not book with the right operator who can keep you better informed how your safari experiences will be like before arriving in Uganda.
As the executive director of Uganda wildlife authority recently assured Uganda tour operators during their general meeting held at fairway hotel in Kampala, "I would obviously see you provide reliable Uganda safari information and join Uganda wildlife conservation efforts in conducting research on how to control the spread of invasive weeds with established plans to uproot, burn and replant. What seems to be the next disaster soil erosion may affect boat cruise safaris on kazinga channel because heavy rains would easily bring too much soil to block boat cruise movements. Uganda wildlife authority's focus on giving a better experience for tourists while preventing invasive species and sustainable tourism activities makes sense because tourism in Uganda is heavily centered on wildlife. And this means those visitors travelling to Queen Elizabeth national park and other Uganda safari parks can feel secure knowing they will have an ultimate wildlife experience.
Queen elizabeth national park is therefore a top destination where green travelers can go for a variety of adventure holiday activities to choose from. From big game viewing, chimpnanzee tracking in Kyabumbura gorge, boat cruise, bird watching, visiting indigenous cultural communities in katwe salt crater lake for traditional salt mining experience and agro-tours in kikorongo village to making excusrions to te neibhouring maramaambo forest reserve were a number of birds and primates can be spotted.
Comments are closed.