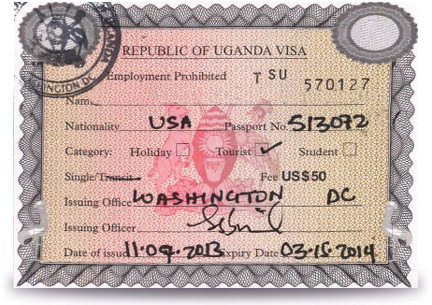 Over the years, to obtain a Uganda Entry visa, one needed to just board the plane or travel by road and obtain the visa on arrival at the airport or any entry border point, where application is made there and then and the visa issued.
This was seen as both good and bad. It is very scarily boarding a plane to another country when you are not sure of your entry status since it is a great embarrassment and disappointment traveling all the way and be denied entry at the airport or any border point.
With the improved technology, everything is going electronic and Uganda could not be left behind!
Thus, online visa application has been introduced starting 1st July, 2016 . There will no longer be application of the visa on arrival where a mere paper form was filled on arrival.
All travelers will now be required to apply online before travel and ensure they have their visa acceptance before boarding. This has been welcomed as a great achievement with the new trend in the travel since it improves security of the country. This also makes the travelers comfortable in planning for their travel.
Uganda has the best tourist attractions in the region which includes the source of River Nile, the world's longest river, Mountain Gorillas, good tropical weather the whole year, many national parks with diverse wildlife, the chimpanzees, a diverse cultural heritage with over 50 local tribes, snow caped mountains, vibrant night life.
With the mountain gorillas inhabited in Bwindi impenetrable Forest National park in Uganda, travelers from all over the world always come to Uganda for gorilla tracking and add on other activities to fully explore Africa and know more about wild Africa.
With Uganda starting online visa application, she joins Rwanda and Kenya which started the system years ago. To apply online, one would just have to visit Uganda immigration site and apply online following this link Comments are closed.