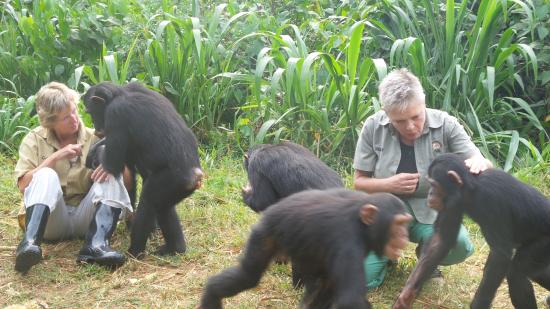 Attracting more than 1.4 million visitors a year, Entebbe zoo and wildlife parks, Uganda are popular places for travelers to visit. For most visitors, an organized safari is the only opportunity to get close to mountain gorillas of Bwindi impenetrable forest national park, chimpanzees and primates of Kibale forest national park, big game such as tree climbing lions, elephants, hippos and reptiles of Kazinga channel in Queen Elizabeth national park, the world's strongest waterfall in Murchison falls national park to most northerly semi-arid deserts of kidepo valley national park.
Entebbe zoo has a magical appeal; it gives you a chance to see fascinating animals that you would otherwise have to travel long distances to remote western Uganda or to Kidepo valley in the north where one would encounter animals not found in other parks of Uganda including cheetah, African hunting dog, ostrich, bat eared fox and Uganda's largest single herd of buffaloes.
However, experiencing wildlife in their natural wild in Uganda national parks is very exciting, but it may not be easy. On a gorilla safari, seeing mountain gorillas in their natural habitats in Bwindi forest, you must be averagely fit and well prepared once you have booked your gorilla permit.
At Entebbe zoo, you can look at animals closely without fear or even if you don't participate in the behind the scenes experience, you can be sure to watch animals being fed by others.
Thanks to the strong Uganda wildlife conservation and education, there are 11 big cats including lion, cheetah, leopard, all live in good health and being take care of. There're more than 120 birds, 23 primates species including chimpanzee and colorful flowers, medicinal plants, butterflies that will attract your attention during a walk in the forest at the zoo. The range of wild animal attractions at this zoo is as diverse as its 3 habitats including savannah, swamp and tropical forests.
It's a quite place to relax along the shorelines of Lake Victoria. Accommodation which includes flats, hostels, camping sites and African bandas, will enable you to enjoy many local cuisines, drinks and activities at Uganda's main recreational park.
Even for school group tours or a family day out, there's a lot to do for children. Thanks to the hands on day programs. For children aged 6 to 16 years, are always in their building block to become environmental stewards or future conservationists. Do ostriches fly or lay eggs? And what do they do to protect against predators? Ever wondered how giraffes feed? Am I strong enough to feed a giraffe or play with a python?
Uganda wildlife education center is the place to go for answers to some of the children's questions. For something a little bit different than watching animals from the fence, who can resist behind the scenes, the experience of feeding giraffes, chimpanzees, playing with a shoe bill stork, python and reptiles, or exhibit how animal care takers prepare their food, conduct health checks and much more.
This way, you actively contribute to the available animal breeding programs being done in partnership with World Association of Zoos and Aquarium while conserving globally threatened species. And by visiting Uganda wildlife education center, you're supporting these initiatives including swamp restoration, breeding of ostriches, conservation education to promote Eco tourism. Visit your favorite animal zoo, always open from 08am to 06pm. Uganda wildlife education center is locate in Entebbe, about 1 hour drive from Kampala and 40 minutes from Entebbe airport, making a perfect gateway.
Comments are closed.